Thanks for visiting my blog and store. This tutorial will teach you how to use Distress Oxides as watercolor media with definied and embossed lines so that it's easy to keep the paint where you want it. This is the perfect lesson for someone just curious about watercolor. The thing I love the most about Distress Oxides is the rich velvety texture when dry. I've been a watercolorist for 30  years and this product blows me away. 
Canson XL Mix Media 98 lbs paper cut to 4 X 5 1/2
Unity Stamp Kit of the Month 1/19
Momento Tuxedo Black ink pad
Brutus Monroe embossing ink
Clear embossing powder. I used Recollections Detail Embossing Power Clear. This embossing powder gives such a nice clear line. It also creates a nice little barrier, again so your watercolor will stay where you want it. 
Ranger Distress Oxide in Spiced Marmalade, Worn Lipstick, Broken China and Peeled Paint. 
water and watercolor brush
Cut the paper
Prepare paper by using an anti-static cloth or puff
Place the paper in the Misti and the Unity Stamp on the clear side.
Proceed to ink the stamp being careful not to use too much. I'd rather use less and stamp twice. I used Momento Tuxedo Black. I love the stark contrast of the deep black lines and the beautiful colors.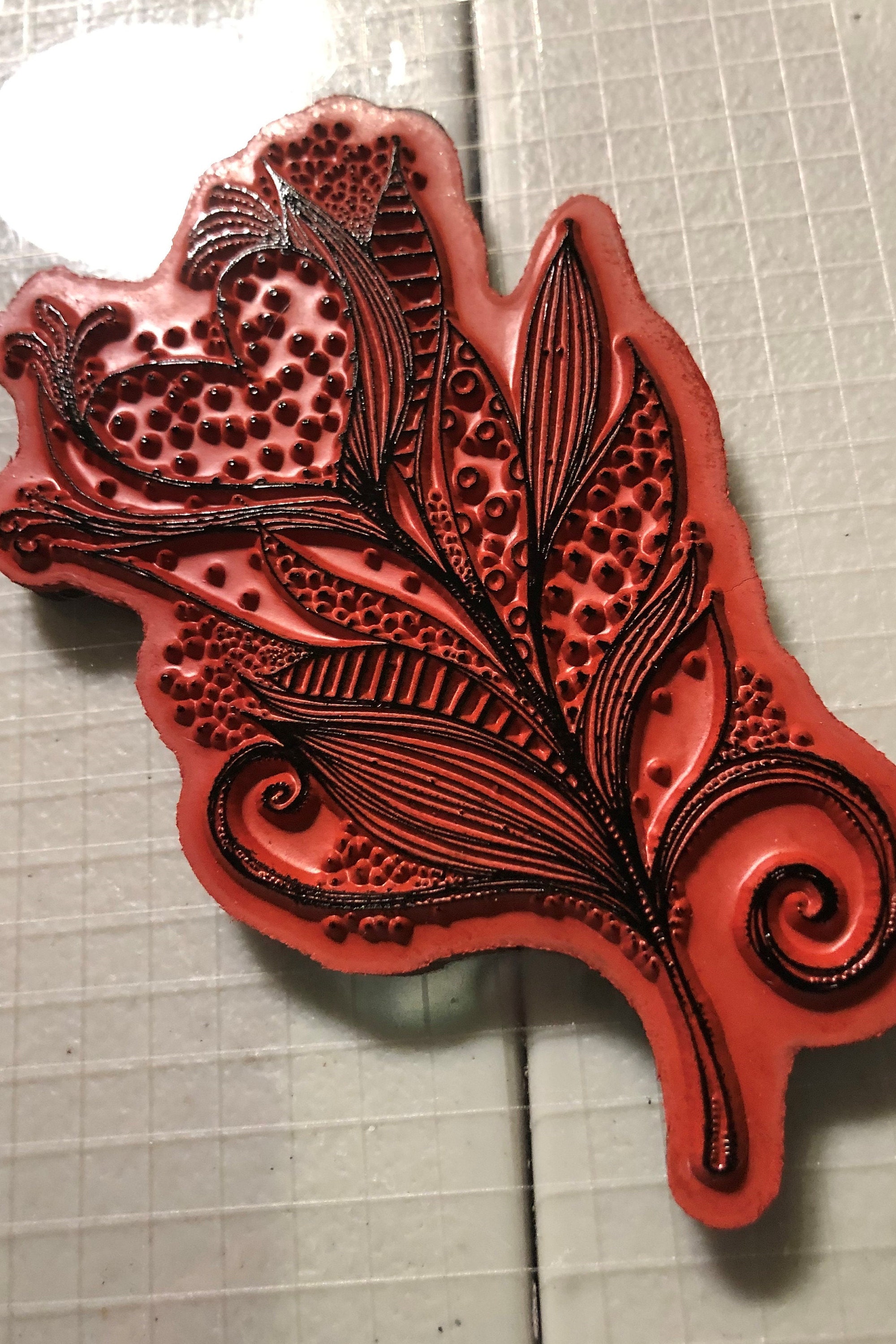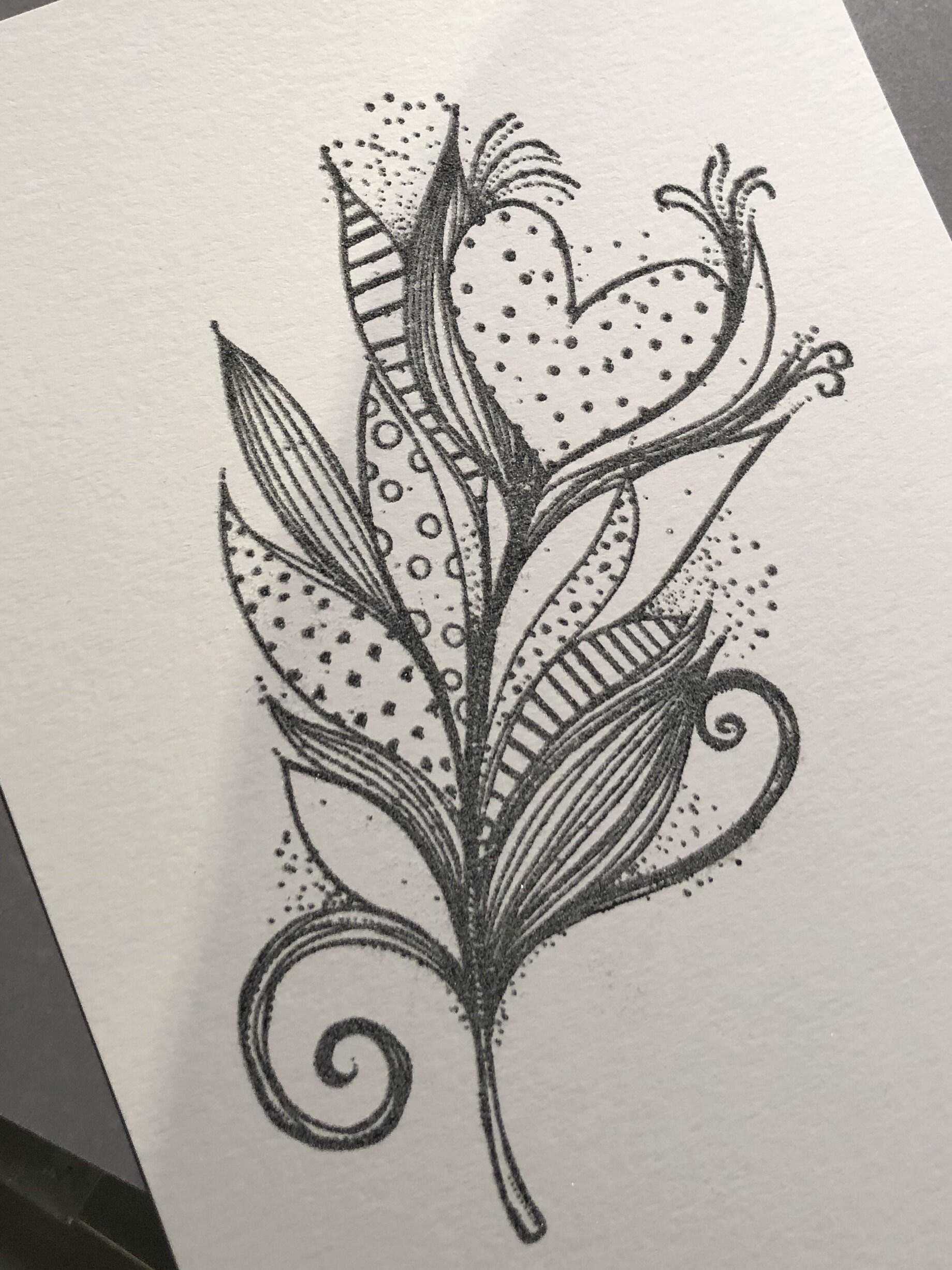 This photo shows the image with the embossing powder on it. It looks a little blurry int he picture.
5.  Use your heat embossing gun to melt the powder onto the image. Afterwards, I lay the paper down for a few mimutes so I won't smear the image. 
6.  Be sure to clean your stamp thoroughly as soon as you are done.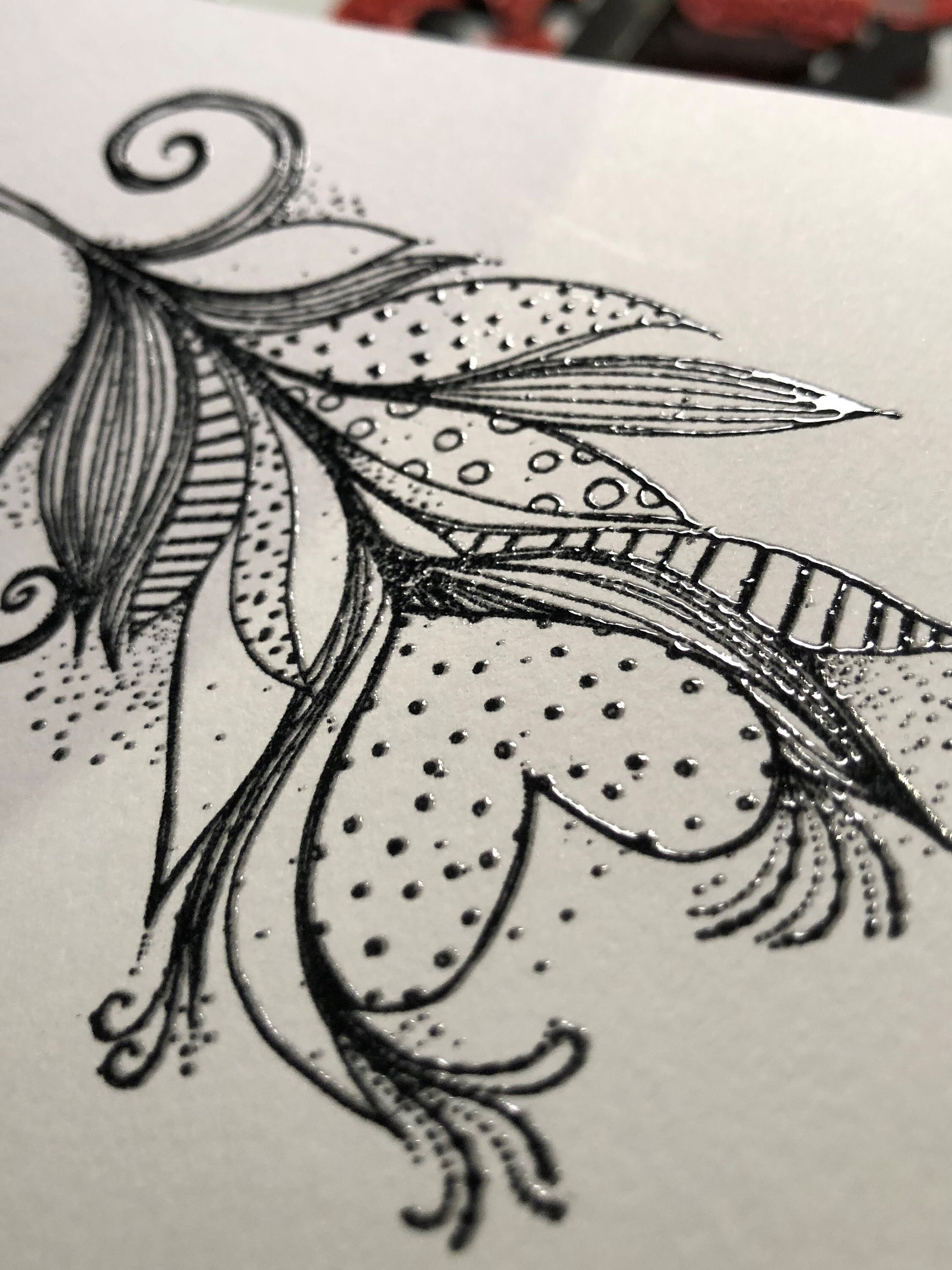 7.  You can see how shiny the embossing is and how much of a barrier is created by using the embossing powder over the ink. A little secret...I do this on nearly all of my sentiments because it really makes them pop and I can use any color of ink to get the result I want.
8.  I usually pick three or four colors at the most to color an image using Distress Oxides. Here you see that I have chosen my first color. I always use a color in three places minimum if I can. It makes your image and card so much more cohesive.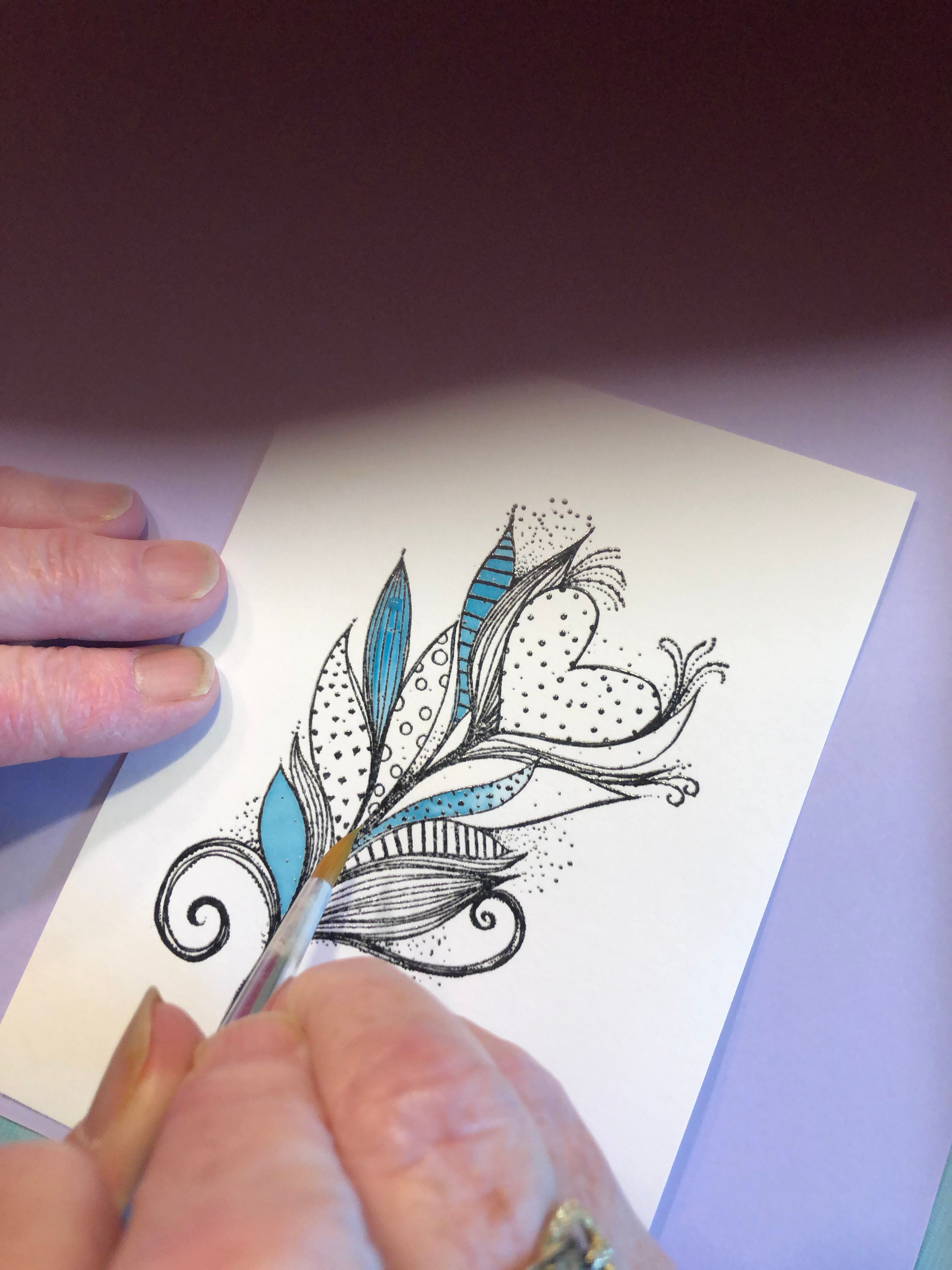 9.  As you can see on the feather on the right, there is a fade effect at the top and much darker on the bottom. This is the thing I love about watercolor. One you learn how to use them, they are so wonderful to play with. 
10. Next is my second color.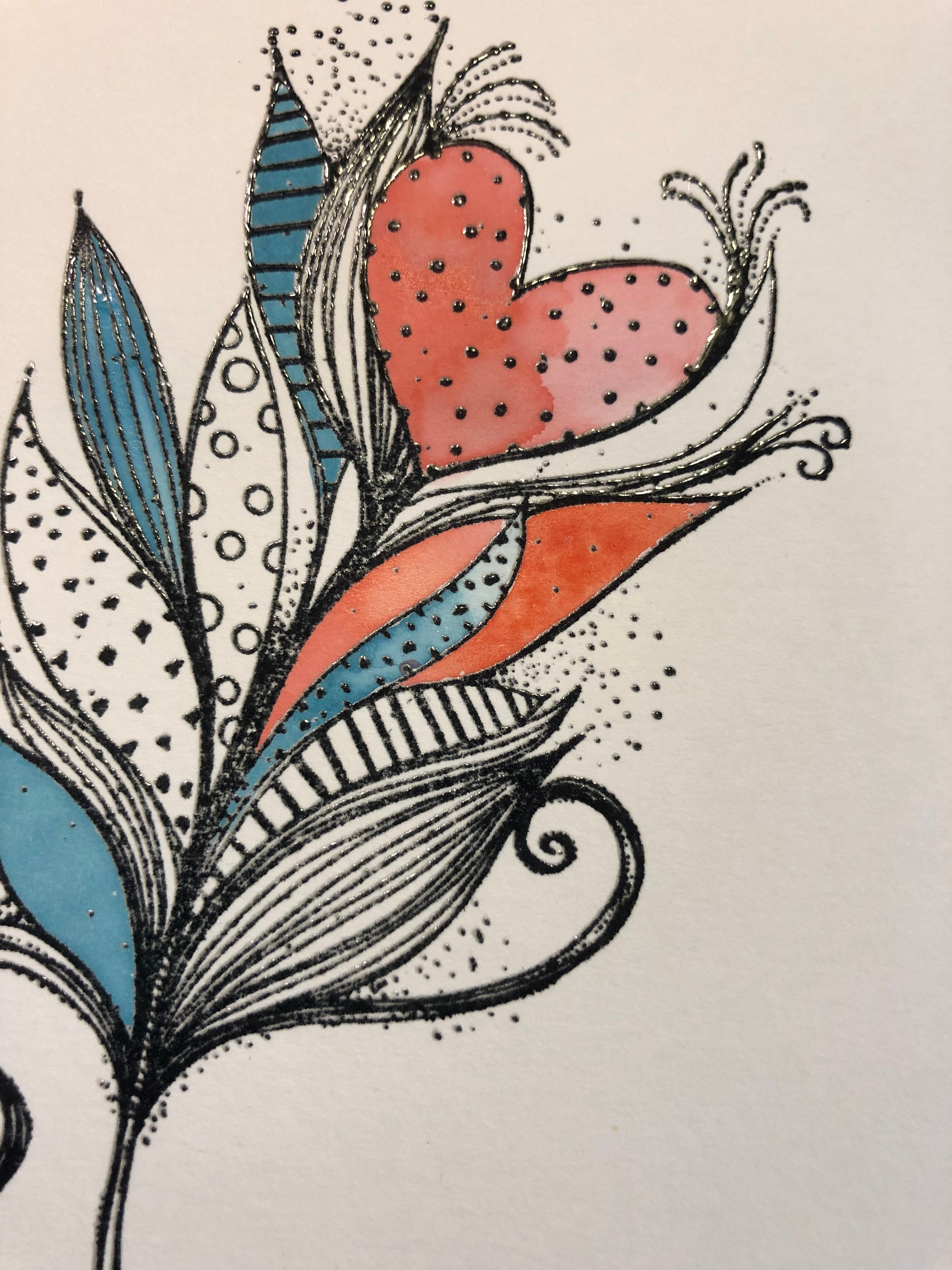 11. The first color was Broken China, the next color is Worn Lipstick (kind of like a coral color, I love it) . Then on to Peeled Paint and Spiced Marmalade. The leaf or feather that has the round circles was done in Spiced Marmalade on the outside and the dots are Worn Lipstick. Notice the subtle changes in values in nearly all of the images. I love to alter light coverage with deeper coverage because I think that adds to the interest.