Hey Folks:
  In an effort to have something original to start out with, I thought I would explain my design concepts. For every design there is a better idea and for every idea there is a design. These are by no means meant to be exclusive. There are so many things to keep in mind and add to a card that I find the most difficult thing to do is edit. Edit, edit,edit. 
 I try to only have three key elements on a card. It may look like more, but I am saying "key" elements. In example one, the three key elements are 1) the paper, three specific designs but only a tiny bit of two of them; 2) "Hello Autumn" in a circle, and 3) the main design element. Things always seem to appear nicer  when they are in three's and I've always loved things in threes. As an interior designer, I used groups of threes as a rule. I apologize but I am not sure who makes this stamp.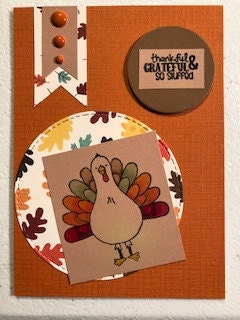 The three key elements on this card turkey, sentiment and flags with enamel dots. Unity turkey.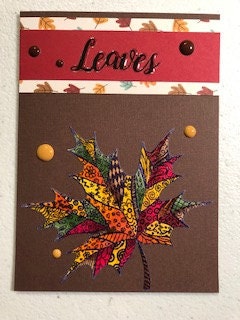 This card is a little different. I think the image is very busy with all the different colors so I kept the background quiet with the dark setting off all the colors in the leaf. The tiny strips of leave paper showing through ties all the colors back to one another and the enamel dots (I almost never use more than three) looked really good here because the sentiment was simple. Notice how I used one large dot and then the medium and small ones on the opposite side on the top and did something entirely different on the bottom. I always try to be different. Love this Unity leaf from stamp of the month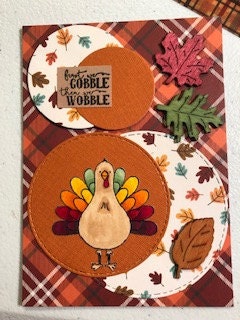 A lot going on with this card. Perhaps too much. I used circles of paper to accent and tone down the background plaid, solids to set off the turkey and sentiment and some cool wooden leaves to accent. I don't believe I followed any of my normal rules here except the accent pieces were in three. Lol...See rules are made to be broken. Unity turkey.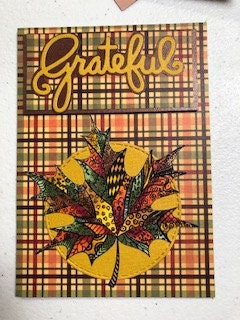 I am not sure why, but this card is so exciting and vibrant. I'm not normally a yellow person but this yellow ochre stands out and looks so amazing against that plaid. You will notice there are again, 3 design elements. The patterned paper, the foliage colored in all the fall colors and the beautiful sebtiment I die cut for the project.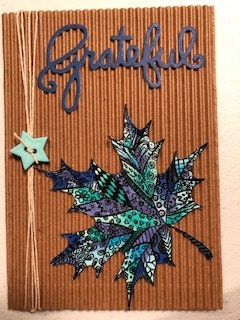 Very unusual fall card. I love to think outside the box. This one is definitely there. I used blues in many shades on this leaf. I didn't think it looked fall-like at all, but when attached to corrugated cardboard, thin twine and a bright  little button to accent. I thought it was marvelous.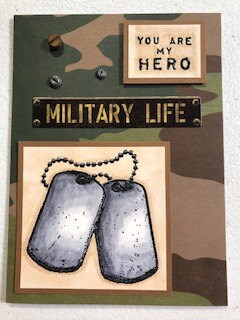 I'm obsessed with these dog tags by Unity Stamps (I'm pretty much obsessed about anything Unity). I colored this one a set of deep grays and then added the warm tones of the tan background for the sentiment and the tags, then I used a sticker "military life" before adding three screw tops from Tim Holz. The camo paper is just another way to say "military".
My next tutorial will be on embossing stamps and ink in a somewhat unique way to make your sentiments as fabulous as you like. 
Next Blog Thursday September 12. Thank you for stopping by.