Hello All:
  I've been making cards like a maniac because it's my favorite thing in the whole world to do. Being an artist, to me is a little like being in the big leagues and pitching a no hitter. I can only imagine the stress, pressure, agony of de-feet (I had this all the time when I worked on my feet). Seriously, I think the feeling of pitching a no-hitter would be amazing. Ok, well I'm not big league anything, just a fun loving artist who loves to make beautiful cards. 
  For todays card I want to show you how you can give your card dimension and depth using foam tape. I know this is elementary, but if you see the fine tiny pieces of tape I put on the back I believe you'd be impressed a little.
  I love buying digital stamps online because you can make them any size you want and mask or cut off anything you don't want. In the case of this stamp, I absolutely loved the entire image  but it wouldn't fit on the card with the sentiment and extra embellishments.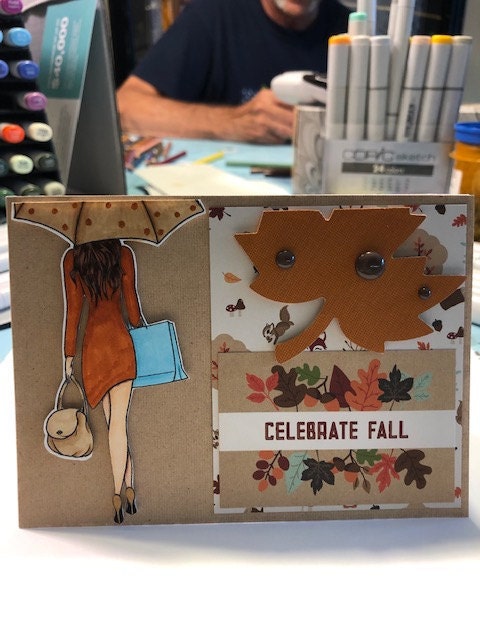 You can see my hubby in the background. 
  Here you can see that the girl and every part of her is elevated by foam tape. I used an xacto knife to cut the interior cuts and fine lines. I used my favorite little scissors for the rest. I used a punch to create the maple leaf. I mounted the entire leaf with foam tape (thus making this a time consuming but beautiful card). I love this image from Sheepski Designs especially the top of the umbrella  https://www.etsy.com/search?q=sheepski+designs&explicit=1&spelling_correction_show_original=sheepskin+designs . I love a lot of their digital stamps. I save them in folders on my computer depending on what holiday, genre, etc.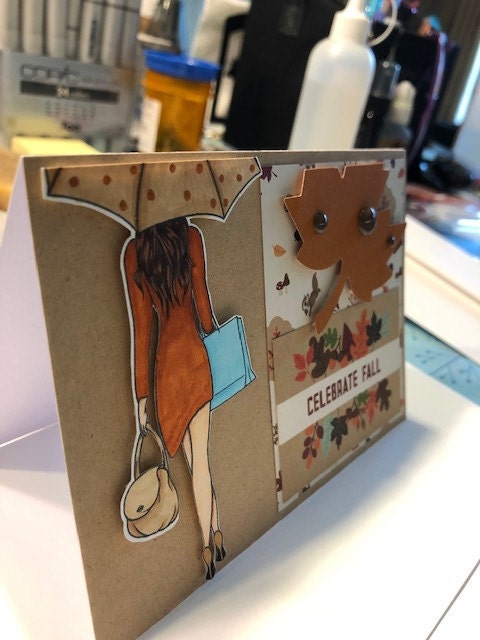 I took five photos of this project but I don't think it's that intricate. I'm pretty sure we can figure this out in three. 
  As you might know, I am new to blogging so I'm so excited to be sharing my love of art with all of you.
  For finishing touches I nearly always use enamel dots or some kind of little doo dad that will accent the scene. 
  I like my cards pretty simple but impactful. That is why design is so important to me.
  As always, it is a privelege to share my ideas with you. Keep checking back. Comment, please!